FUNraiser for friends * FUNDraiser for furry friends!
25% of sales is donated to animal rescue, but sometimes we do special fund raisers and donate even more!
Click here for
happy news
about this month's special!
DogCaption Cards are lol and awwwww opportunities guaranteed to deliver happiness to your friends and family! Everyone sends e-mails ... stand out from the pack by putting one of our cards in the mail or add 'em to lunch boxes, pillow tops and back packs. You'll be amazed at how much joy, good will and gratitude you'll receive out of this simple deed ...
Besides the caption on the front, there's plenty of room on the inside of each card to catch someone up on news, print an invitation to your event, add your pup or purr's paw print --- have fun!
Each card features an original caption and candid photograph, with only minimal correction for color and punctuation.
Our mini-packs, including the popular "Don't worry ... be Yappy!" pack, include four happy-go-lucky cards!
Whether you want to get a smile and a giggle out of a girlfriend or comfort a loved one, our packs make it easy to be "there." Click on the "Orders" Tab above to peruse our catalog and your card packs today!
No animals were hurt during the photography for this project, although many were given treats which may have temporarily contributed to minor weight gain and tighter collars.
Thanks for viewing and visiting our site.
A percentage of every sale
raises funds for pups in need.
100% OF THE SMILES
raised are gifts to you, your friends and family!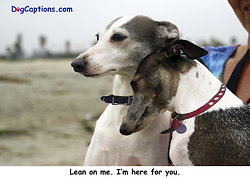 Gallery of Cards
Gallery of our DogCaption Cards

A total of 20 DogCaption gift cards available online.
Each card is measures 5 by 7 inches and opens to a blank inside, allowing for extra writing room and space for money and treats.
Pending Cards - Special Order - Bulk Pricing Available

Every once in awhile we just come across the perfect "must have." It is something that looks great on everyone and every pup ...
Red Berets

Did you know that Red Berets are in and that they look GREAT on everyone. Now you do.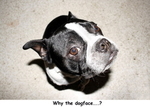 Our Breed Specific Cards

What's your favorite breed...we may have a card just for you.
If not, we're working on it. Check back later.